Arethusa Coin Button Earrings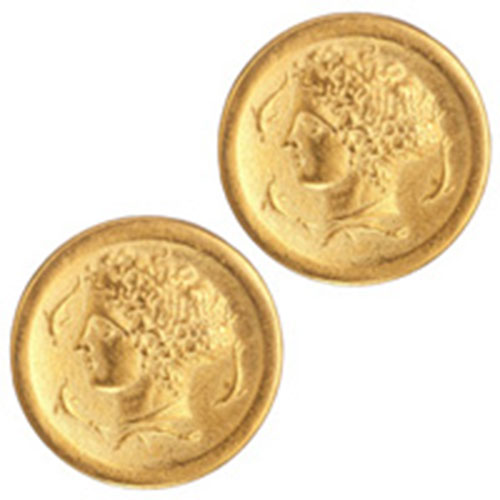 Art History
In Greek mythology Arethusa was a water nymph, personifying the phenomenon of a sweet-water spring on an island surrounded by the salt sea. The story goes that Arethusa was pursued by the hunter Alpheus in the region of Elis, on the Greek Peloponnese. Arethusa transformed herself into a spring and escaped under the sea to Syracuse, Alpheus followed and became part of the same spring.
Description
Arethusa appears as the central image on coinage of Syracuse from the sixth through the fourth century B.C. and was the inspiration for the striking design of the Museum's Arethusa Coin Earrings. 22K gold overlay. Matte finish. Made in the USA. Pierced, with gold-filled posts and omega backs. 3/4" diam.
Details
22K gold overlay Matte finish Pierced Made in the USA 3/4" Diam. Gold-filled posts, with omega backs
You have not viewed any product yet!