Arts & Crafts Enamel Drop Earrings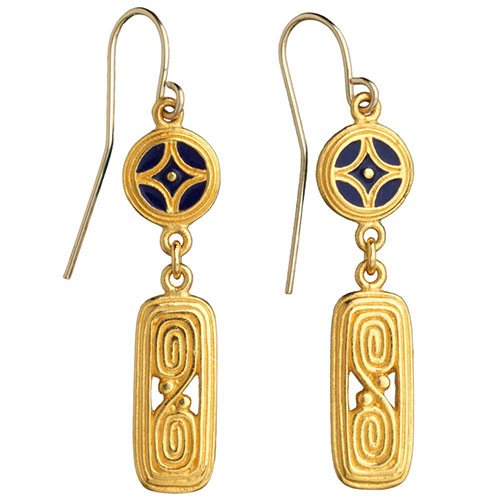 Art History
Loius C. Tiffany
Louis Comfort Tiffany (American, 1848-1933) began his career as a painter, but moved quickly to interior decoration and leaded-glass windows, creating revolutionary types of opalescent glass that radiated especially deep vibrant hues. Using variations in color and thickness of glass, he achieved pictorial effects of unsurpassed subtlety and beauty. In addition to stained- glass windows and lighting fixtures, his studios also made pottery, furniture, textiles, jewelry, and works in bronze and enamel.
Description
Because of its deep color, lapis lazuli was a stone that Louis Comfort Tiffany (American, 1848–1933), one of America's most noted decorative artists at the turn of the twentieth century, incorporated into many of his works. Our exquisite earrings have been adapted from a group of finely crafted pieces (ca. 1910–15) lapis lazuli. 1907, art jewelry designed by Louis Comfort Tiffany was made at the workshops of Tiffany & Co., where production was supervised by jeweler Julia Munson. Only a few hundred pieces of art jewelry were made under Louis C. Tiffany, which were notable for innovative use of semiprecious stones. 24K gold overlay, hand enameled. Made in the USA. 1 1/2"L. Pierced, with gold- filled wires.
Details
24K gold overlay, hand enameled Pierced Made in the USA 1 1/2"L Gold-filled wires
You have not viewed any product yet!