Black Freshwater Pearl Earrings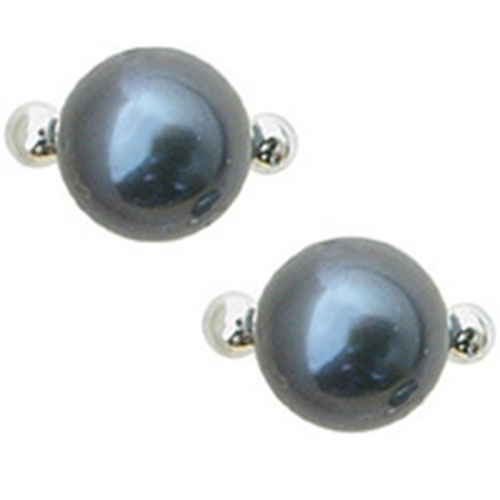 Art History
Juan de Flandes
Juan de Flandes (Netherlandish, active by 1496–d. 1519) was trained in Bruges or Ghent, but his name was first recorded in Spain, where he received commissions from Isabella I of Castile (Spanish, 1451–1504). De Flandes worked on an altarpiece for the chapel of the University of Salamanca between 1505 and 1509. The painting Saints Michael and Francis may be from this altarpiece.
Description
These stunning earrings are adapted from the decorative border of a shield in Saints Michael and Francis, a painting by Juan de Flandes (Netherlandish, active by 1496–d. 1519). Saints Michael and Francis, whose names are inscribed below their images, are depicted standing in niches. Each has his identifying characteristics: Saint Francis holds his hands up to display the stigmata, or the wounds of Christ on the saint's body; Saint Michael stands above a small dragon through which he thrusts a spear, illustrating the battle described in Revelation 12:7. Sterling silver, with cultured freshwater pearls. Pierced, with sterling silver posts. 1/2" diam.
Details
Sterling silver Cultured freshwater pearls Pierced Made in the USA 1/2" diam. Sterling silver posts
You have not viewed any product yet!