Budding Lotus Oblong Scarf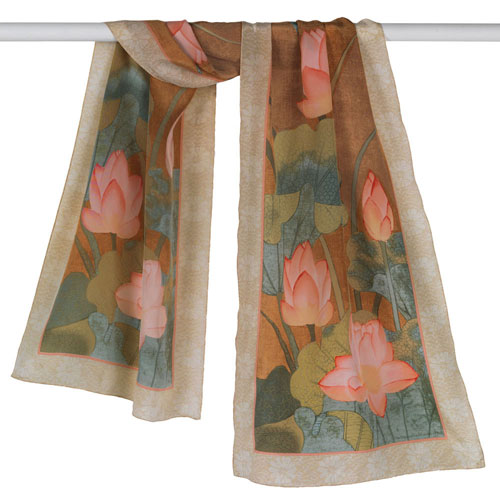 Art History
Chinese
Imported to China from India, the lotus—growing from the slime of a pond, its blossoms blooming unsullied—was linked to Buddhist images of purity and rebirth. By the thirteenth century, naturalistic depictions of lotus in different seasons also evoked the ephemeral nature of physical beauty.
Description
Lotus and Water Birds (ca. 1300), a pair of hanging scrolls in the Museum's collection, is by a professional painter of the Piling School, situated near Changzhou, Jiangsu Province. Our beautiful scarf shows a detail from this large-scale decorative work: a midsummer scene with lotus flowers in early stages of budding and bloom. Silk crêpe de chine. Imported. 66" x 18".
Details
Silk crêpe de chine
Imported
66" x 18"
You have not viewed any product yet!