Byzantine Peacock Earring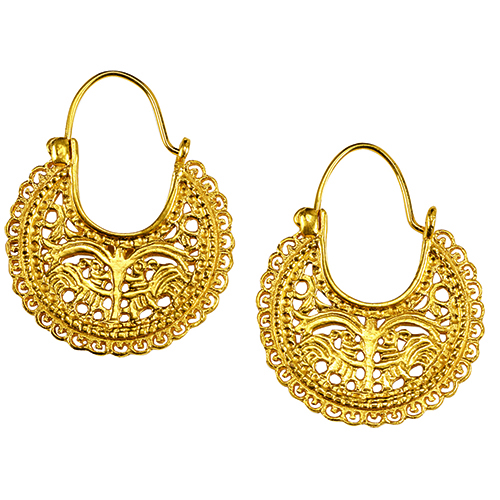 Art History
Byzantine
The great cities of Rome, Antioch, and Alexandria were the main centers of jewelry production during the fourth and fifth centuries, but by the sixth century, the thriving Byzantine capital of Constantinople had become the most important site of jewelry production. The Byzantine capital's prestige can be measured by the quantities of high-quality jewelry since found outside the Empire's borders and by the many copies made by jewelers working outside the empire's borders, especially in the Germanic world to the north and west.
Description
Our delicate Byzantine Peacock Earrings, moon-shaped with peacocks on either side of a tree with branches ending in arabesques, are based on a pair of original gold earrings (6th– 7th century) featuring lovely opus interrasile work in the Museum's collection. Opus interrasile is a technique in which patterns are formed by making openings in flat metal surfaces that highlights the play of light and shadow. This technique was one of the more innovative jewelry-making methods used in Late Antique and Early Byzantine styles, a process that peaked around 600 A.D. Like the original earrings, our adaptation is accented with a beaded rim and a scrollwork border. . 24K gold overlay. Made in the USA. 1 1/2"L Pierced, with gold-filled wires.
Details
24K gold overlay Made in the USA 24K gold overlay: 1 1/2"L Pierced, with gold-filled wires
You have not viewed any product yet!