Ciner Collection: Black and Topaz Earrings (clip)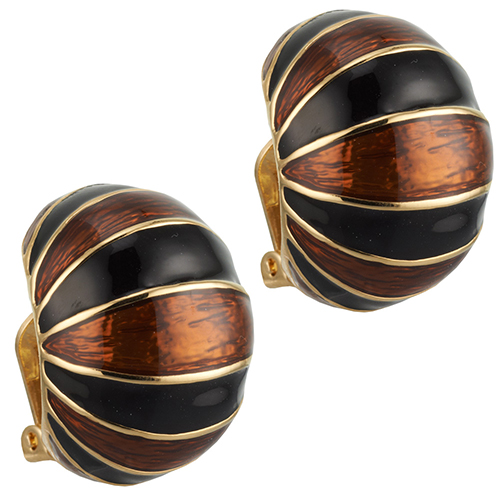 Art History
Ciner
Founded by Emanuel Ciner in 1892 in New York City, Ciner Fashion Jewelry began as a maker of fine jewelry. In the 1930s the company began creating fashionable, high- end costume jewelry, gaining renown for its extraordinary craftsmanship, and vintage Ciner pieces remain highly sought after today by collectors. Emanuel Ciner's granddaughter, Pat Ciner Hill, and her daughter, Jean, now head the family firm that has been designing important costume jewelry for more than 121 years.
Description
Produced by Ciner exclusively for the Metropolitan Museum, our striking earrings are based on a dazzling Ciner jewelry set in The Costume Institute. The originals (1976– 77) are made of luminous black and topaz- colored enamel on gold. Each piece begins with a hand-colored sketch, which is then sculpted by a model maker, in the tradition of platinum jewelry. Ciner uses only the finest materials, and rich jewel-toned enamels are applied entirely by hand. 18K gold overlay, hand enameled. Imported. 1"L. Clip.
Details
18K gold overlay, hand enameled Imported 1"L Clip
You have not viewed any product yet!