COLORS BOARD BOOKS (SET OF 6)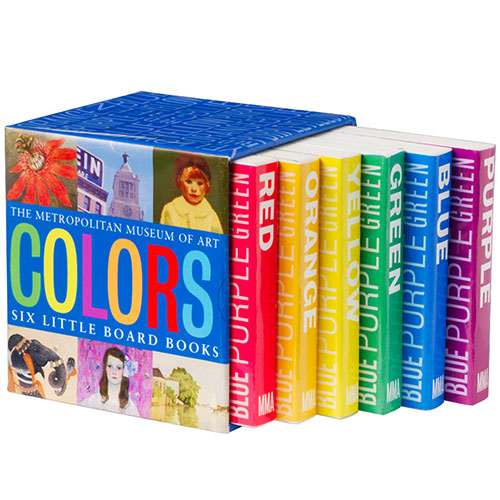 Description
For over 30 years, the Museum's store has offered children their own special place to read, explore, and learn about our collection. The shelves in this wonderful space are filled through the efforts of our Special Publications Department, whose mission is to develop books and activities that illuminate the art in our collection and spark young imaginations. Many of our Museum- created projects have been ranked among the best in their field, offering the highest levels of content and design with fun kid-friendly contexts. A number of them have been translated into multiple languages, making them accessible worldwide. After all, these books have a big job to do— inspiring and nurturing the next generation of artists and art lovers.
What better way to learn about colors than by looking at works of art from the collection of The Metropolitan Museum of Art? Each little board book focuses on a particular color, exploring how artists from different cultures have applied them through the ages. Ages 2 and older. Includes 6 books, 20 pages per book. 4" x 4". Hardcover with slipcase.
Details
Ages 2 and older Includes 6 books, 20 pages per book 4" x 4" Hardcover
You have not viewed any product yet!