Cypriot Multi-Link Necklace,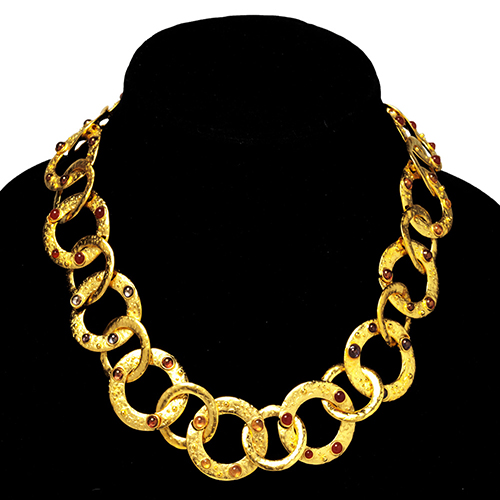 Art History
Cyprus
Since early prehistoric times, Cyprus has been a way station for ships circulating around the eastern Mediterranean. Sailors, warriors, and merchants, including Greeks, Phoenicians, Egyptians, and Persians, passed through the island. The exposure of Cypriot craftsmen to foreign artistic styles from both East and West is reflected in the distinctive hybrid forms of jewelry that by the Classical period (475–325 B.C.) represented an amalgam of Greek, Near Eastern, and indigenous styles. The original earrings are embellished with granulation, a form of ornamentation in which tiny grains of metal (most commonly gold) are fused to an underlying surface metal.
Description
This exquisitely designed necklace is adapted from two original crescent-shaped earrings produced in Cyprus between the fifth century B.C. and the first century A.D. The linked rings design with a gold setting and semiprecious stone suggests influence from not only Greek jewelry of the Classical period but also of the east, where colored stones were used with gold beginning in the Archaic period (ca. 700–480 B.C.). The original earrings can be found in the Museum's Cesnola Collection, one of our earliest collections, which contains unrivaled works of art from Cyprus that date from about 2500 B.C. to about A.D. 300. 22K gold overlay, with glass cabochons. Matte finish. Made in the USA. Inner circumference: 15 1/2"L. Toggle closure.
Details
22K gold overlay Matte finish Glass cabochons Made in the USA Toggle closure Inner circumference: 15 1/2"L
You have not viewed any product yet!