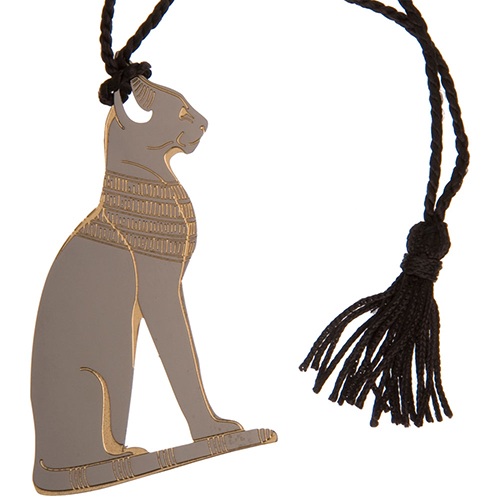 Description
Sacred to Bastet, the goddess of joy and fertility, cats were particularly revered in the Late Dynastic and Ptolemaic periods, when this goddess reached the peak of her importance as a national divinity. Figures of seated cats in wood, bronze, and faience were presented as offerings in her temples, or served as containers for the mummified bodies or bones of the animals buried in special cat cemeteries. Cats were first domesticated by the Egyptians in the Middle Kingdom for their mouse- hunting abilities. By New Kingdom times they had also become household companions. In tomb scenes they frequently appear seated beneath the chairs of their owners or on sporting boats in the Nile marshes, where they flush out birds for their masters. For the Egyptians, the goddesses Bastet and Sakhmet were two aspects of divine power. Sakhmet, the lioness, represented dangerous, potentially destructive forces. Bastet, the feline of the house, incorporated the benevolent aspects of a deity that could be pacified by rituals.
Our bookmark is based on an original Egyptian sculpture from the Late Dynastic period (712–332 B.C.), now in the Museum's collection. The bronze cat figure, found in Saqqara, is hollow, indicating that it was probably used as a container for mummified remains. In its subtle modeling and stylized features, the sculptor has captured the lithe aloofness and dignity characteristic of the feline. A collar is engraved around the neck, from which is suspended an wedjat-eye pectoral for protection and well- being. Photo-etched brass with hematite plating. 3" x 1 1/4".
3" x 1 1/4" Photo-etched brass with hematite plating
You have not viewed any product yet!