Egyptian Kha Oblong Scarf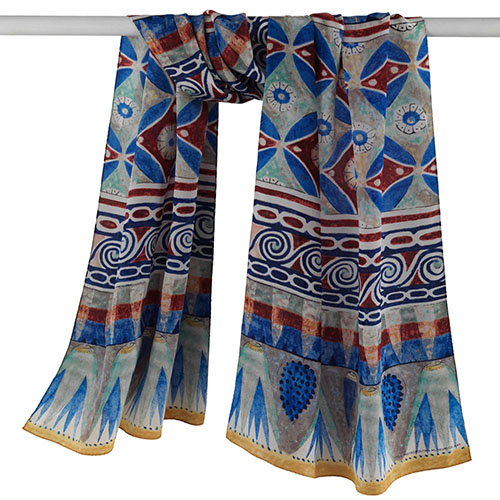 Art History
The Museum's collection of ancient Egyptian art contains about twenty-six thousand objects of artistic, historical, and cultural significance, dating from the Paleolithic to the Roman period (ca. 300,000 B.C.–A.D. 4th century). The majority of the collection comes from the Museum's thirty-five years of archaeological work in Egypt, which began in 1906 in response to growing Western interest in the culture of ancient Egypt.
Description
From 1907 to 1937, the Graphic Section of the Egyptian Expedition of the Metropolitan Museum made precise colored copies (facsimiles) of decorations found in tombs in the cemeteries of western Thebes, across the Nile from modern Luxor. Among the nearly 300 facsimiles on display in the Egyptian galleries are some that reproduce painted ceiling decorations, originally created to suggest the tomb chambers were hung with colorfully decorated textiles. Our bold scarf is based on painted motifs (New Kingdom, Dynasty 18, ca. 1427–1352 B.C.) copied in 1922 from the tomb of Kha at Qurna. Silk crêpe de chine. Imported. 64" x 19".
Details
Silk crêpe de chine
Imported
64" x 19"
You have not viewed any product yet!