Forget-Me-Not Flower Pearl Neckalce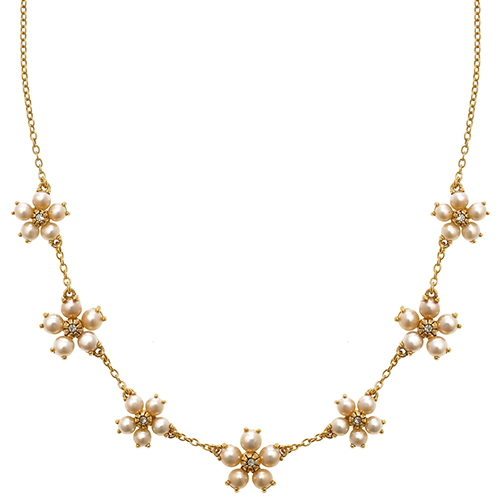 Art History
House of Fabergé
Peter Carl Fabergé (Russian, 1846–1920) revolutionized the way jewelry was evaluated in Russian society by emphasizing creativity and workmanship over the use of precious stones and metals. His studio produced a wide variety of objets d'art, including magnificent jewelry, clocks, enamel cigarette cases, boxes, frames, and his ultimate achievement, a series of jeweled Easter eggs created for czars Alexander III and Nicholas II of Russia.
Description
Our Forget-Me-Not Multi-Flower Necklace is based on a jeweled forget-me-not flower of gold, diamonds, turquoise, and nephrite, resting in a rock crystal vase filled with "water" that was designed by the workshop of Peter Carl Fabergé (Russian, 1846–1920). Made expressly for the Metropolitan Museum in the United States. 24K gold overlay, with cultured freshwater pearls. Made in the USA. 18"L.
Details
24K gold overlay Cultured freshwater pearls Made in the USA 18"L
You have not viewed any product yet!