Granulated Crescent Earrings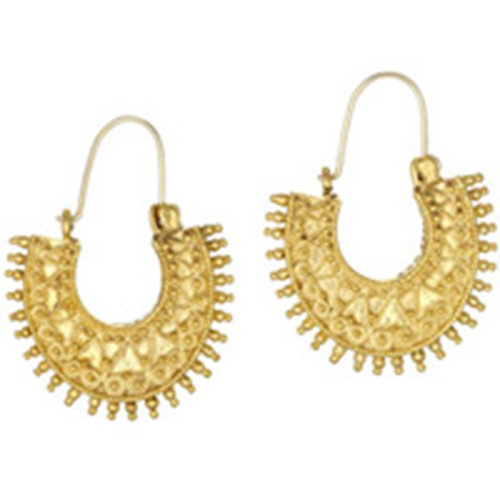 Art History
Jewelry played an essential role in Greek life, ritual, and death. Artistic representations of daily activities, as well as literary accounts of historical events, reveal how fashionable Greeks used jewelry to display wealth and prestige. Ever-present during monumental celebrations like birth and marriage, jewelry was offered as gifts to the gods. Unlike that of the Egyptians or Romans, classical Greek jewelry, while often colorfully enameled, excluded gemstones; and though most surviving examples are of gold, less precious pieces in silver and bronze were probably more commonplace.
Description
The Museum's earrings, based on a Greek original from the fifth century B.C., feature detailed granules adorning the circumference and delicate filigree spirals decorating the body. The use of the crescent shape was popular for earrings in ancient Greece, as was the use of granulation, a technique in which tiny grains of gold are fused to an underlying surface metal. 24K gold overlay. Lightly antiqued. Made in the USA. Pierced, with gold-filled ear wires. 1 1/4"L x 1"W.
Details
24K gold overlay Lightly antiqued Pierced Made in the USA 1 1/4"L x 1"W Gold-filled ear wires
You have not viewed any product yet!