GREEK DOLPHIN EARRINGS 0000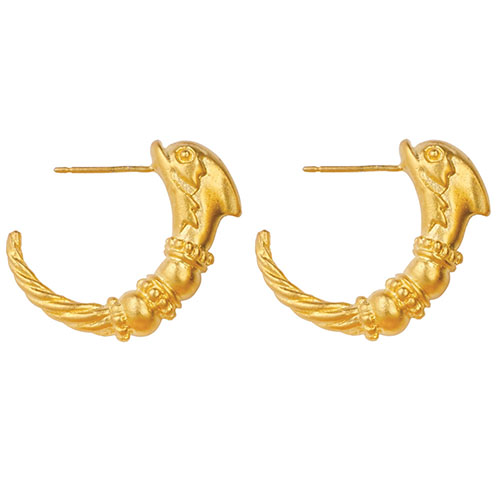 Art History
Jewelry played a prominent role in ancient Greek life, ritual, and death. Artistic representations of daily activities reveal how affluent Greeks used jewelry to display wealth and prestige. During the Classical period, the emphasis was on finely crafted gold jewelry, while in the succeeding Hellenistic period, colored stones from the East became available and the conspicuous display of wealth gained acceptance.
Description
Many types of earrings were made during the Hellenistic period; the dolphin was associated with the goddess Aphrodite and her birth from the sea. The Museum's collection includes a pair of repoussé and chased gold earrings with dolphins' heads and beads of emerald, banded glass, and gold (Greek, Hellenistic, 2nd–1st century B.C.). Our stylish earrings were adapted from these striking originals. 24K gold overlay. Made in the USA. 1"L. Pierced, with gold-filled posts.
Details
24K gold overlay Made in the USA 1"L Pierced, with gold-filled posts
You have not viewed any product yet!