Greek Granulated Bead And Lapis Earrings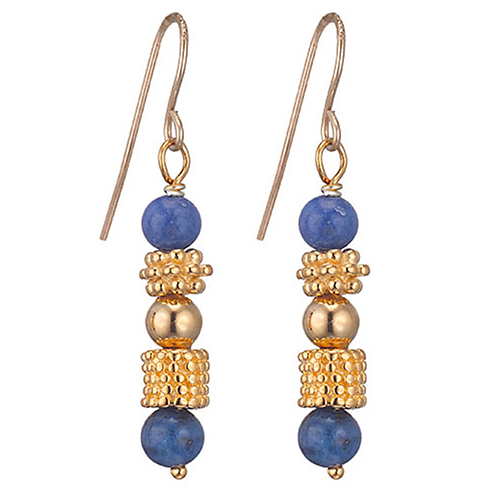 Art History
Jewelry was a sign of wealth and prestige in Greek culture, and it played an essential role in life, ritual, and death. Women wore the conventional earrings, necklaces, bracelets, and rings, as well as the more extravagant wreaths, diadems, and breast pendants. Jewelry was present during marriage and births, and buried with people at death. They were also offered as gifts to the gods at significant points in people's lives. Greek jewelry, unlike that of the Egyptians or Romans, tended to include gemstones, often decorated with gold granulation.
Description
Based on a Greek necklace from about 400 B.C., our Greek Granulated Bead and Lapis Earrings feature delicate cascading beads. The original necklace, found in Pantikapaion on the north coast of the Black Sea, is detailed with fine gold granulation—an ancient form of jewelry ornamentation. Produced in cooperation with the State Hermitage Museum, St. Petersburg. 24K gold overlay, with lapis lazuli. Made in the USA. Pierced, with gold-filled wires. 1 1/4" to 1 1/2"L.
Details
24K gold overlay Lapis lazuli Drop Earrings Made in the USA 1 1/4" to 1 1/2"L Gold-filled wires
You have not viewed any product yet!