Imperial Japanese Floral Silk Oblong Scarf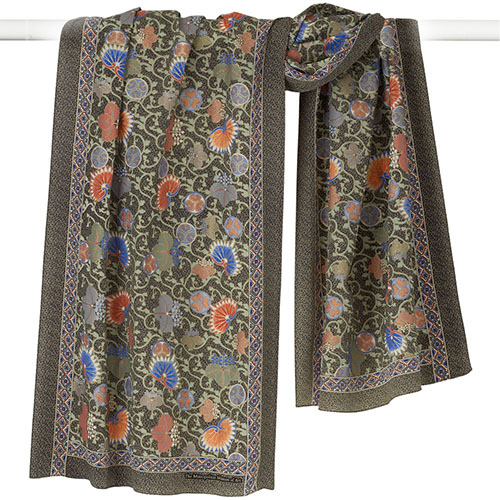 Art History
Japanese
The term shogun, which means "general who quells barbarians," is an ancient military term that was adopted in the twelfth century for the dominant warlord who held political and martial power in Japan while the emperor in Kyoto maintained his position as figural head of state and cultural leader. The members of the Minamoto, Ashikaga, and Tokugawa families who held the position of shogun successively from the twelfth to the nineteenth centuries varied greatly in the extent and security of their authority and the stability and prosperity of the realm under their command.
Description
Metalwork, enameling, and wrappings. The striking design of this scarf is adapted from the grip of a nineteenth-century ceremonial Japanese tachi, or slung sword, from the Tokugawa shogunate in the Museum's Department of Arms and Armor. The sword's grip is dazzlingly decorated in multicolored enamel depicting the arms of the Tokugawa and Imperial family scattered amid a floral and scrolling vine motif. Silk crêpe de chine. Imported. 62" x 17".
Details
100% Silk crêpe de chine
Imported
62" x 17"
You have not viewed any product yet!