Impressionism Birthday Calendar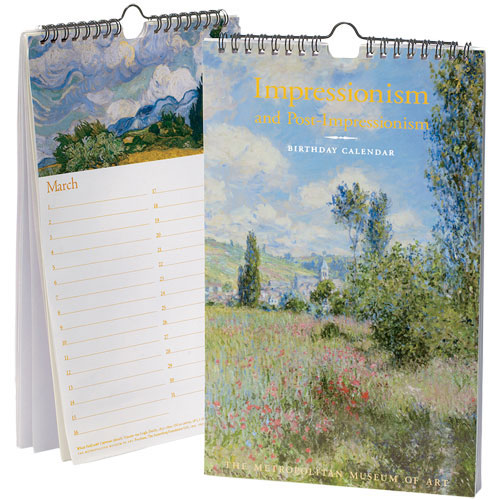 Description
Various
The late nineteenth-century Impressionist movement focused on the changing modern world and the serenity of nature. Critic Louis Leroy gave the Impressionist movement its name after calling Claude Monet's Impression, Sunrise a sketch or "impression" and not a finished painting. Impressionist artists' loose brushwork gives an effect of spontaneity and effortlessness that masks their often carefully constructed compositions. Post-Impressionism, on the other hand, concentrates on themes of deeper symbolism. Producing works characterized by a borderline abstract aesthetic, Post-Impressionists used a simplified color palette and sought to express emotions rather than simply creating optical impressions.
The Impressionist and Post-Impressionist artists rejected established styles and viewed the world with a modern eye. Their use of bright colors, new approach to light, and broken brushstrokes resulted in some of the best-known, most beloved paintings of all time. Impressionist treasures from the Museum's collection are magnificently reproduced to grace your wall throughout the year. This undated calendar for recording birthdays and anniversaries features masterpieces by Degas, Monet, Cézanne, Van Gogh, and Seurat. 12-month format with 13 full-color illustrations. Spiral bound with 12 sheets. Includes hook for hanging. 7" x 11".
Spiral bound with 12 sheets 12-month format with 13 full-color illustrations Includes hook for hanging 7" x 11"
You have not viewed any product yet!