Indian Gold Bead Multi Strand Necklace,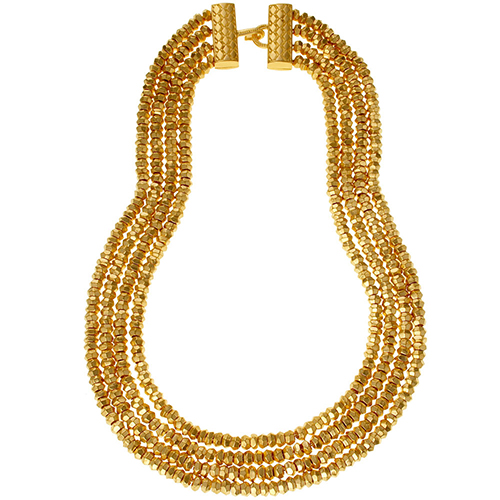 Art History
The tradition of Indian jewelry making is characterized by a vast and complex heritage spanning at least five thousand years, and embodies a rich cultural significance far beyond the intrinsic value of the precious materials. Early Sanskrit texts emphasize the symbolic meanings attributed to gems and metals. Gold, first among precious things and associated with the sun, symbolizes the Hindu goddess of good fortune, Lakshmi.
Description
Our striking necklace is adapted from an Indian original from the eighteenth–nineteenth century in the Museum's collection featuring five graduated strings of close- strung, multi-faceted gold beads. 22K gold overlay. Matte finish. Made in the USA. Hook and eye closure. 17 1/4"L.
Details
22K gold overlay Matte finish Made in the USA Decorative closure 17 1/4"L
You have not viewed any product yet!