Japanese Florals Magnetic Bookmarks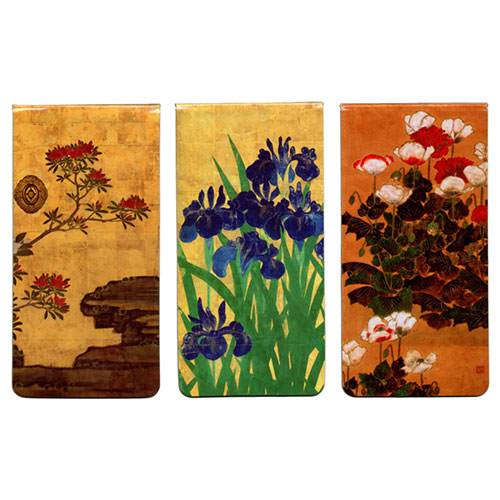 Description
Various
From ancient times to the present, the beauty of the seasons and the poignancy of their evanescence have been celebrated in Japan through many festivals and rituals— from the welcoming of spring at the lunar New Year to picnics under the blossoming cherry trees to offerings made to the harvest moon. Painters and artisans have formed images of visual beauty in response to seasonal themes and poetic inspiration. In this way, artists in Japan have created meditations on the fleeting seasons of life and, through them, expressed essential truths about the nature of human experience.
During the Edo period (1615-1868), painting compositions often focused on seasonal flowers, such as the three depicted on these bookmarks. The delicate pink blossoms in The Old Plum by Kano Sansetsu (Japanese, 1589–1651) proclaim the arrival of spring. The irises in Eight Bridges by Ogata Korin (Japanese, 1658–1716) present a brilliant orchestration of colors and forms that seem to vibrate with sensuous beauty. The poppies in Red and White Poppies by Kitagawa Sosetsu (Japanese, active 1639–1650) display an inspired composition of clusters of several unusual varieties of Japanese Poppies. Our bookmarks are designed to fold over the page for a firm hold. Set of 3 bookmarks. Lacquered metal, with magnetic snap closure. 1 2/3" x 3 1/2" each.
Set of 3 bookmarks 1 2/3" x 3 1/2" each Lacquered metal, with magnetic snap closure
You have not viewed any product yet!