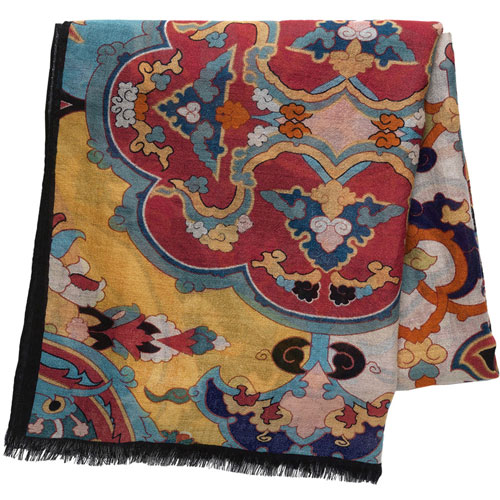 Art History
The Metropolitan Museum of Art's collection of Islamic art, which ranges in date from the seventh to the nineteenth century, reflects the great diversity and range of Islamic culture and offers perhaps the most comprehensive permanent installation of Islamic art on view anywhere.
Description
A beautiful textile fragment woven in Iran in the second half of the sixteenth century, once part of the central field of a huge carpet, is in the Museum's collection. This magnificent piece exhibits the use of jufti (paired) knotting, characteristic of a small group of carpets and fragments attributed to the northeastern Iranian province of Khurasan. The carefully drawn flowers, incorporating serrated curling leaves, resemble those of the so-called saz style, which became popular in Iran and Turkey in the sixteenth century. Our elegant shawl is based on this richly patterned textile. Wool. Imported. 70" x 22".
Details
Wool
Imported
70" x 22"
You have not viewed any product yet!