LE CHAT NOIR MUGS (SET OF 2)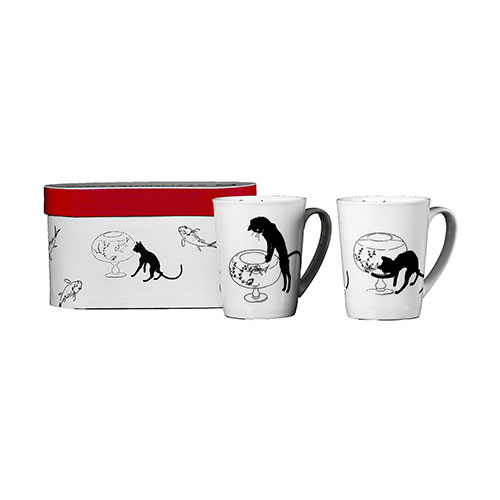 Art History
Arriving in Paris in 1881, illustrator, printmaker, painter, and sculptor Théophile-Alexandre Steinlen (French, 1859–1923) headed for Montmartre, where he lived and worked for the rest of his life. He became part of the avant-garde literary and artistic environment of the Chat Noir nightclub, and a poster he designed for this cabaret became one of his most famous images. Though stylized and elegant, the subjects of Steinlen's work reflected the real world, from Bohemian cafés to the women of the night to the slinky cats that roamed the streets of Paris.
Description
The charming designs on our porcelain mugs are based on a sequence of eight drawings in Théophile-Alexandre Steinlen's (French, 1859–1923) revered book of illustrations, Des Chats (Cats), ca. 1898, a copy of which is in the Museum's collection. Few artists have been more passionately fond of cats than Steinlen, a Swiss-born graphic artist who lived in Paris. He drew cats with unvarying grace and skill throughout his long career, particularly those from his Montmartre neighborhood. Steinlen's models were habitués of rooftops, gutters, cemeteries, and garbage bins, the pets of local artists, seamstresses, and concierges. Includes 2 mugs and decorative box. Porcelain. 4"H x 2 1/2"W; 8 1/2" oz.
Details
Includes 2 mugs and decorative box
Porcelain
4"H x 2 1/2"W; 8 1/2" oz.
You have not viewed any product yet!