Louis Comfort Tiffany Dragonfly Embroidered Wristlet Bag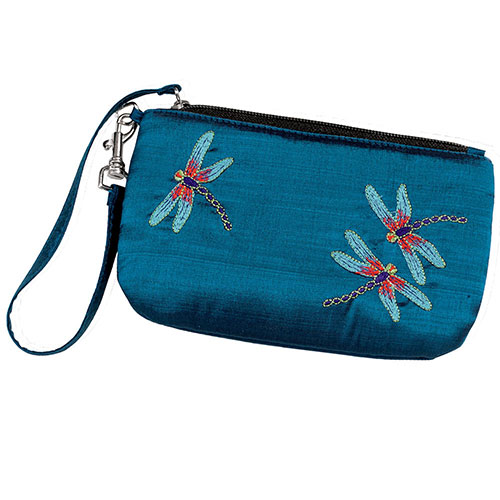 Art History
Louis C. Tiffany
Louis Comfort Tiffany (American, 1848–1933) embraced virtually every decorative arts medium, designing and directing the production of windows, mosaics, lighting, glass vases, pottery, metalwork, enamels, and jewelry. Of all his creative endeavors, stained glass brought Louis Comfort Tiffany the greatest recognition. His Favrile glass, patented in 1881, was internally colored with variegated hues, which produced a milky, opaque, and in some instances rainbow-hued appearance when light shone through it. Unusual effects were created by introducing textures and adding different layers of glass or plating.
Description
Louis Comfort Tiffany (American, 1848–1933) was one of America's most noted decorative artists at the turn of the twentieth century. Starting in 1898, he adapted his methods of making stained-glass windows to the production of artful lampshades, frequently inspired by natural motifs. Extant preparatory sketches and watercolor cartoons indicate the great care that was taken in achieving the final design for the lampshades, many of which were custom-made. The elegant motif on our wristlet is based on a working drawing (ca. 1905) for a round dragonfly shade in the Museum's collection. Silk. Fully lined. Top-zip closure. 4 1/4"H x 6 3/4"W.
Details
Silk Fully lined Top-zip closure 4 1/4"H x 6 3/4"W
You have not viewed any product yet!