Louis Comfort Tiffany Grapevine Glass Tumbler (DOF)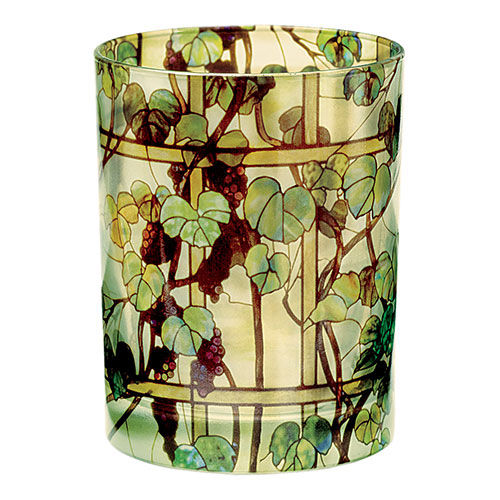 Art History
Louis C. Tiffany
Of all of Louis Comfort Tiffany's (American, 1848–1933) artistic endeavors, leaded glass brought him the greatest recognition. Having begun his career as a painter, he approached his work in glass with a painter's eye for the nuances of color and shadow. This led him to seek a more varied palette with richer hues and greater vibrancy, subtlety, and texture, enabling him to "paint" with glass in the most minute detail. Favrile glass was the perfect medium through which he could express his unique blending of nature and exoticism.
Description
Our delightful glass is based on a stunning window panel by master decorative artist Louis Comfort Tiffany (American, 1848–1933). The window panel, now in the Museum's collection of the American Wing, features jewel-like clusters of grapes on trailing vines silhouetted against a distant sky. The panel's textured glass lends a three- dimensional quality and a dazzling iridescence to the grapes. Our glass evokes the rich colors of the original piece. Glass. Hand wash only. 14 oz. 4 1/8"H; 3 1/4" diam.
Details
3 1/4" diam., 4 1/8"H 14 oz. Glass Hand wash only
You have not viewed any product yet!