Louis Comfort Tiffany Magnolia Shawl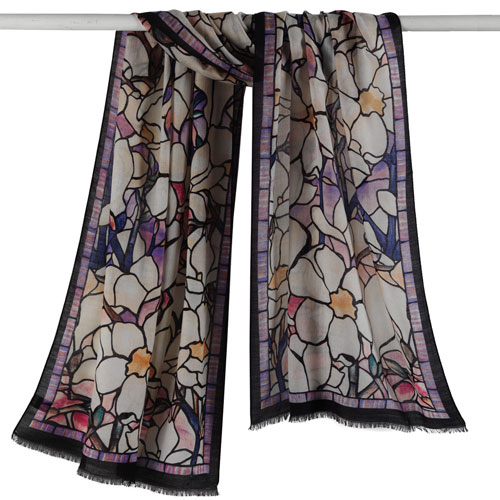 Art History
Louis C. Tiffany
A master of many media, Louis Comfort Tiffany (American, 1848–1933) was one of America's most noted decorative artists at the turn of the twentieth century. Louis C. Tiffany began his career as a painter but moved quickly to interior decoration and leaded- glass windows, creating revolutionary types of opalescent glass that radiated especially deep, vibrant hues. Using variations in color and thickness of glass, he achieved pictorial effects of unsurpassed subtlety and beauty.
Description
Our beautiful shawl design is adapted from the stained-glass lampshade on the Magnolia floor lamp (ca. 1910–1913), originally produced by Tiffany Studios and now in the collection of the New-York Historical Society. These shades are distinguished by the use of a ridged, highly textured glass called "drapery glass," which conveys the fleshy texture of magnolia blossoms and gives the shade a rich surface quality. Produced in cooperation with the New-York Historical Society. Wool/Silk. Imported. 70" x 24".
Details
Wool/Silk
Imported
70" x 24"
You have not viewed any product yet!