Louis Comfort Tiffany Magnolias and Irises Plate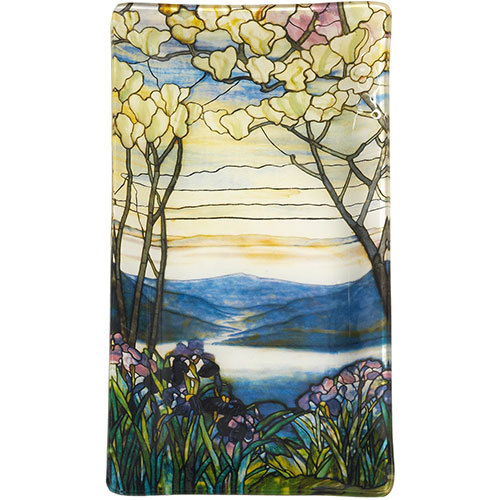 Art History
A master of many media, Louis Comfort Tiffany (American, 1848–1933) was one of America's most noted decorative artists at the turn of the twentieth century. Louis C. Tiffany began his career as a painter but moved quickly to interior decoration and leaded-glass windows, creating revolutionary types of opalescent glass that radiated especially deep, vibrant hues. Using variations in color and thickness of glass, he achieved pictorial effects of unsurpassed subtlety and beauty. In the early 1890s, Louis Comfort Tiffany developed a method of blending different colors together in glass while it was in a molten state, thus achieving subtle effects of shading and texture. He called this type of glass, which was often noted for its iridescence, Favrile glass (from fabrile, and Old English word meaning "hand-wrought").
Description
Featuring lush, radiant colors, the Museum's Magnolias and Irises Plate is based on an original Louis Comfort Tiffany (American, 1848–1933) Favrile glass window depicting a picturesque landscape. The window features an embankment of irises idly situated beneath flowering magnolia trees in the foreground. Magnificent purple hills are set in the background with a central meandering stream, possibly emblematic of the river of life. This piece exemplifies Louis Comfort Tiffany's lifelong fascination with light, color, and nature. Glass, with decals. For decorative use only. 9"L x 4 1/2"W.
Details
Glass
For decorative use only
9"L x 4 1/2"W
You have not viewed any product yet!