Louis Comfort Tiffany Mosaic Column Oblong Scarf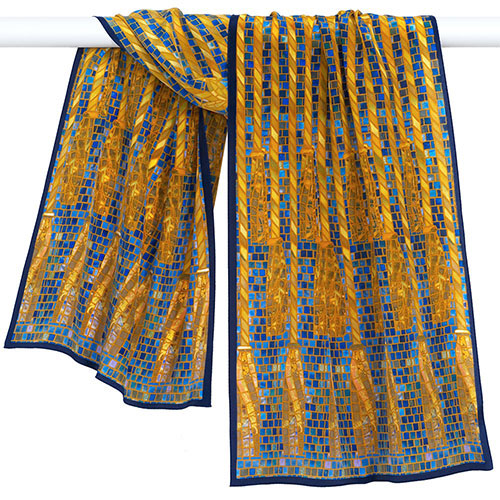 Art History
Louis C. Tiffany
Louis Comfort Tiffany (American, 1848–1933) was one of America's most acclaimed and multi-talented artists working in the late nineteenth and early twentieth centuries. He began his career as a painter but moved quickly to interior decoration and leaded-glass windows, creating innovative types of opalescent glass that radiated deep, vibrant hues. As an extension of his work in Favrile and stained glass, Louis Comfort Tiffany began to design glass mosaics for interiors, attributing his inspiration to the dazzling interiors of the Byzantine churches he had visited as a young man. Rather than using traditional flat, solid- color squares, or tesserae, he took advantage of his innovative techniques of modeling and shading to produce a wide range of colors within the glass itself.
Description
A 1926 photograph of the Tiffany Studios showroom on Madison Avenue features a pair of mosaic columns flanking an entrance. Drapery serves as the inspiration for the iridescent decoration, a diamond- patterned fringe and long gold tassels suspended as the column's peacock blue fades to midnight. Our Mosaic Column Scarf is based on the decoration of one of these columns now in the Metropolitan Museum's collection of American Decorative Arts. Silk crêpe de chine. Imported. 64" x 18".
Details
Silk crêpe de chine
Imported
64" x 18"
You have not viewed any product yet!