Louis C. Tiffany Peacock Feather Throw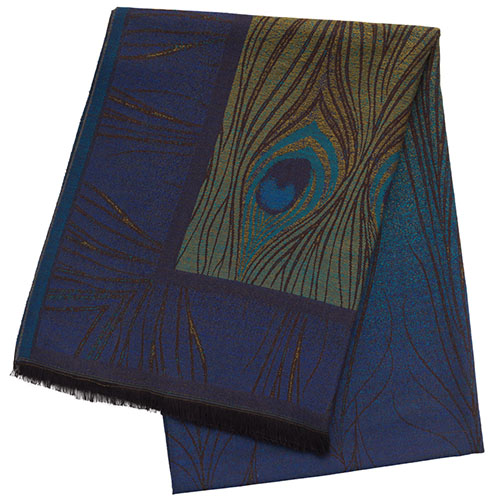 Art History
A master of many media, Louis Comfort Tiffany (American, 1848–1933) was one of America's most noted decorative artists at the turn of the century. Louis C. Tiffany began his career as a painter but moved quickly to interior decoration and leaded-glass windows, creating innovative types of opalescent glass that radiated deep, vibrant hues. Using variations in color and thickness of glass, he achieved pictorial effects of unsurpassed subtlety and beauty. In the early 1890s, Louis Comfort Tiffany developed a method of blending different colors of glass while it was in a molten state, thus achieving subtle effects of shading and texture. He called this type of glass, which was often noted for its iridescence, Favrile glass (from fabrile, an Old English word meaning "hand-wrought").
Description
The shimmering design of our sumptuous throw was inspired by Louis Comfort Tiffany's (American, 1848–1933) iridescent glass vase produced by Tiffany Glass and Decorating Company in 1900. The piece stylizes the "eye" of the peacock feather with rich iridescent hues gradating to a light blue surrounding the eyes. Louis Comfort Tiffany was often compelled by the natural world, and this particular motif was used in some of his most important architectural commissions and ornamental vessels. Wool/viscose. Dry clean only. Imported. 72" x 58".
Details
Wool/Viscose
Dry clean only
Imported
72" x 58"
You have not viewed any product yet!