Medieval Millefleurs Oblong Scarf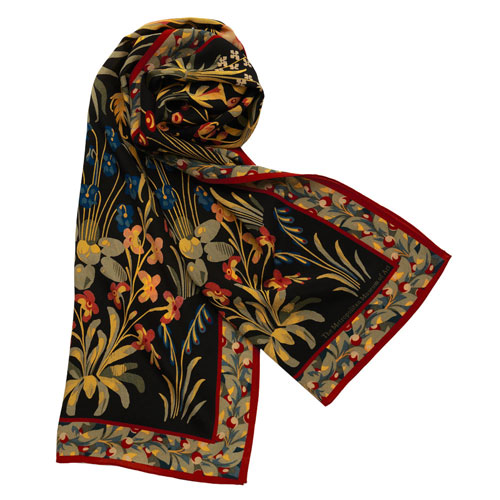 Art History
The three enclosed gardens at The Cloisters are an integral part of the Museum and count among its treasures. Planted in reconstructed Romanesque and Gothic cloisters, the gardens evoke those found within medieval monasteries and convents.
Description
"Millefleurs" (thousand flowers) refers to a background covered with small plants and blossoms. The millefleurs pattern on this scarf is taken from Shepherd and Shepherdess Making Music, a wool and silk tapestry fragment (ca. 1500–1530, South Netherlandish) in the Museum's collection. The tapestry depicts a shepherd couple entertaining themselves with music, while three sheep from their flock graze nearby in a colorful flower-strewn field. Our pretty scarf design includes pink (Dianthus seguieri), English daisy (Bellis perennis), daffodil (Narcissus pseudonarcissus), sweet violet (Viola odorata), stock (Matthiola incana), and calendula (Calendula officinalis). Silk crêpe de chine. Imported. 64" x 18".
Details
Silk crêpe de chine
Imported
64" x 18"
You have not viewed any product yet!