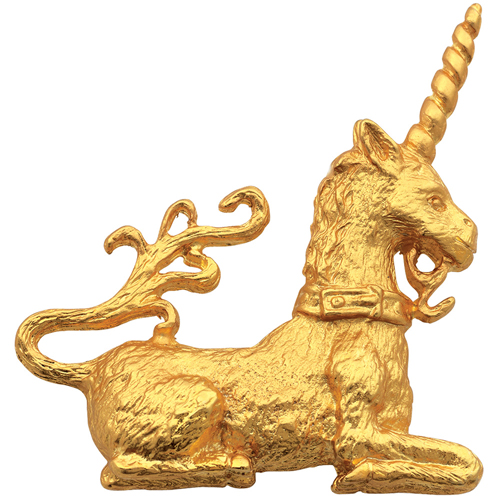 Art History
During the late Middle Ages and the Renaissance, the process of tapestry weaving enabled the creation of complex figurative compositions on a large scale. Tapestry hangings on the walls of castles and churches provided decoration and insulation while also displaying the wealth and power of the patrons who commissioned them.
Description
The Hunt of the Unicorn tapestries (South Netherlandish, 1495–1505) on display at The Cloisters are among the most celebrated medieval works in the Museum's collection. Luxuriously woven in fine wool and silk with silver and gilded threads, the seven individual hangings vividly depict scenes associated with a hunt for the elusive, magical unicorn. A mythical composite of a horse and a goat, the unicorn was a popular image throughout the Middle Ages. Our whimsical pin is based on the iconic unicorn portrayed in these magnificent tapestries.
22K gold overlay. Made in the USA. 1 3/4"L x 2"W.
Details
22K gold overlay
Made in the USA
1 3/4"L x 2"W
You have not viewed any product yet!