MMA Van Gogh Wheat Cypr Puzzle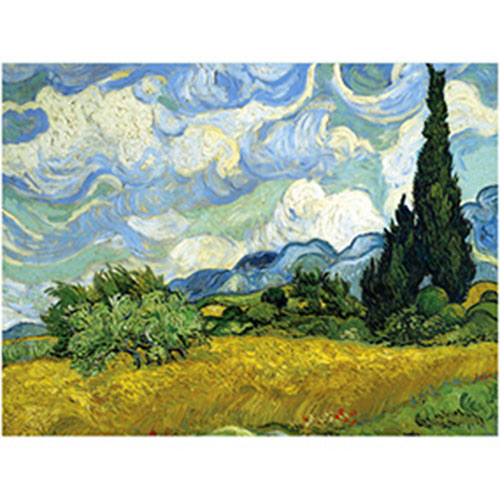 Description
Vincent van Gogh (Dutch, 1853–1890) has long been hailed as among the greatest artists of the modern era. He is better known for his vibrant paintings; but behind Van Gogh's bold use of color is an equally inspired sense of line, perspective, and structure. Largely self-taught, Van Gogh gained his footing as an artist by copying prints and studying nineteenth-century drawing manuals and lesson books, such as Charles Bargue's Exercises au fusain et cours de dessin. His artistic legacy is not only preserved in his paintings and drawings but also in his voluminous correspondence, primarily with his brother, Theo. These letters lay bare his working methods and artistic intentions and serve as a reminder of his brother's pivotal role as a mainstay of support throughout his brief career.
Details
Our puzzle details cypress trees Vincent van Gogh (Dutch, 1853–1890) painted in the South of France from 1888 to 1889. Wheat Field with Cypresses was painted in 1889, after Van Gogh voluntarily entered an asylum in Saint-Rémy. Venturing beyond the grounds of the hospital, he painted the surrounding countryside, especially its olive groves and cypresses, which he saw as "characteristic of Provence." In June, he produced two paintings of cypresses, rendered in thick impasto. He likened the form of a cypress to an Egyptian obelisk in a letter to his brother Theo. The wheat field—sun-drenched and undulating in the wind—was to represent "extreme heat." © 2010 The Metropolitan Museum of Art. Ages 13 and older. Includes 500 pieces. 18" x 24" when complete.
Ages 13 and older Includes 500 pieces 18" x 24" when complete
You have not viewed any product yet!