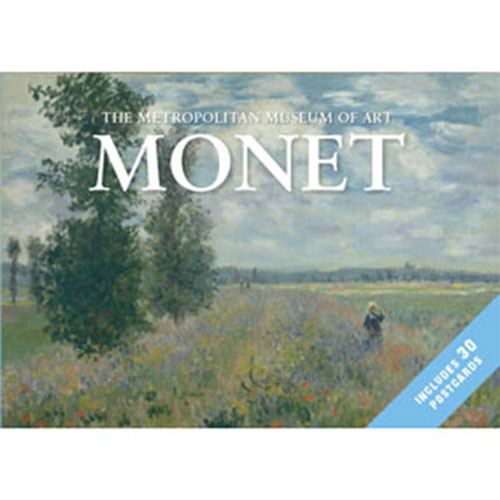 Description
Monet
Claude Monet (French, 1840–1926) was a key figure in the Impressionist movement that transformed French painting in the second half of the nineteenth century. Throughout his long career, Monet consistently depicted the landscape and leisure activities of Paris, as well as the Normandy coast. He found subjects in his immediate surroundings, as he painted the people and places he knew best. His first wife, Camille, and his second wife, Alice, frequently served as models. Monet led the way to twentieth-century modernism by developing a unique style that strove to capture on canvas the very act of perceiving nature.
The Impressionist master par excellence, Claude Monet was devoted to revealing the changing face of nature, from morning to night and from season to season. Featured in this set of postcards are reproductions of some of Claude Monet's (French, 1840–1926) most celebrated works in the Museum's collection—vases filled with cheery bouquets to fields of riotous wildflowers, to scenes of Monet's own carefully planned and cultivated gardens, including the epic intensity of the late water lily paintings. These thirty postcards include notable paintings such as Rouen Cathedral: The Portal (Sunlight), Camille (The Green Dress) , Ice Floes, and The Gare Saint-Lazare: Arrival of a Train. Includes 30 postcards. 4 3/4" x 6 3/4" each.
Includes 30 postcards 4 3/4" x 6 3/4" each
You have not viewed any product yet!