MUGHAL KING OF ELEPHANTS PLATE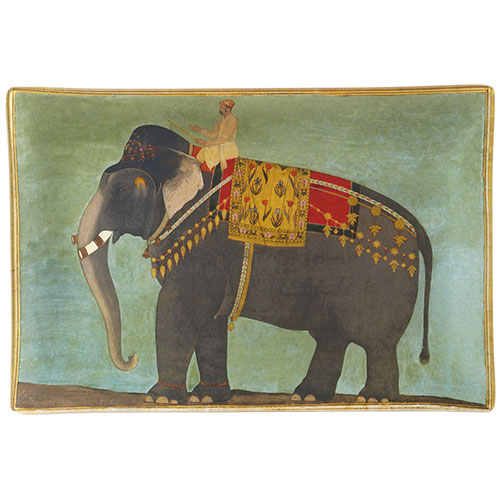 Art History
The Mughal empire (1526-1858) flourished under a long line of dynamic and highly cultured rulers, who supported some of the greatest achievements of Indian art and architecture. Royal support for court painters, architects, weavers, and goldsmiths led to the development of a distinctive and unified Mughal style. Under Shah Jahan (r. 1628-58) the Mughals enjoyed a golden age that produced illustrious works such as the legendary Taj Majal.
Description
Within the Museum's collection is a beautifully illustrated album leaf, meticulously painted in opaque watercolour and gold on paper, depicting a magnificent elephant ridden by a mahout. A Persian inscription identifies the image as a "picture of 'Alam-guman Gajraj (the arrogant one of the earth, king of elephants) whose value is one lakh rupees," or one hundred thousand rupees. Our glass plate is based on the original painting. Glass. For decorative use only. 8 1/2"L x 12 1/2"W.
Details
Glass
For decorative use only
8 1/2"L x 12 1/2"W
You have not viewed any product yet!