NYC LANDMARKS MAGNETC BOOKMARKS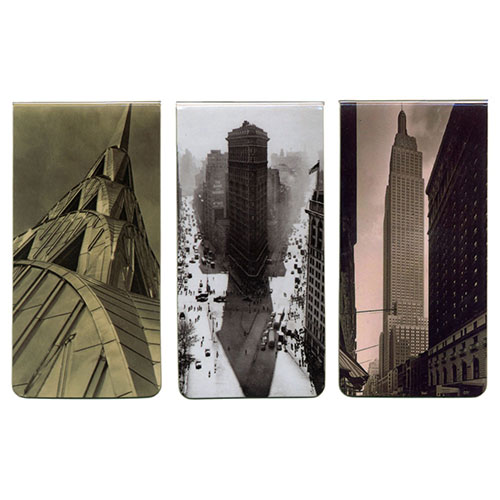 Description
New York
Soon after his 1839 Paris visit with Louis Daguerre, inventor of the daguerreotype, Samuel F. B. Morse, the prominent New York painter and inventor, wrote the first American description of the revolutionary new process, published in the widely- read New York Observer. From that time photography has been integral to the life and art of New York, often celebrating the City itself as muse. The collection of more than 25,000 works in the Metropolitan Museum's Department of Photographs includes significant holdings of images of New York City, many of them both photographs of the city's architectural landmarks and landmarks of American photography.
Highlighting some of the most iconic landmarks in New York City, this set of magnetic bookmarks reproduces black-and-white gelatin silver prints of three twentieth- century iconic skyscrapers by three equally iconic masters of photography. Included are the works Chrysler Building by Margaret Bourke-White (American, 1904– 1971), Flatiron in Summer by Rudy Burckhardt (American b. Switzerland, 1914–1999), and Empire State Building by Wendell MacRae (American, 1896– 1980). Our bookmarks are designed to fold over the page for a firm hold. Set of 3 bookmarks. Lacquered metal, with magnetic snap closure. 1 2/3" x 3 1/2" each.
Set of 3 bookmarks 1 2/3" x 3 1/2" each Lacquered metal, with magnetic snap closure
You have not viewed any product yet!