Parisian Peacock Feather Necklace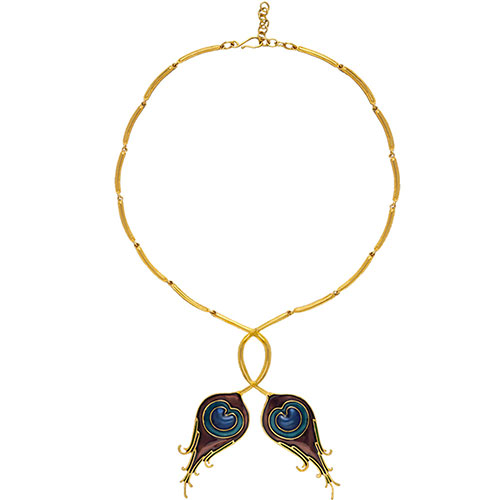 Art History
Persian
Favored for its shimmering exoticism by champions of the Aesthetic and Art Nouveau movements, the peacock feather enjoyed a lively vogue as a design motif in the late nineteenth and early twentieth centuries. Its graceful silhouette and rich, iridescent hues were adapted to every manner of the decorative arts: textiles and graphic design; porcelain, glass and metalwork; even furniture and interior decoration.
Description
Our vibrant necklace is based on stylized peacock feathers depicted in a color pochoir (stencil) print in Combinaisons Ornementales, published about 1901 in Paris. Considered the "bible" of decorative Art Nouveau elements, this exceptional portfolio of patterns and designs, a copy of which is in the Museum's collection, was created by Georges Auriol (pseudonym for Jean-Georges Huyot, (French, 1863– 1938), Alphonse Maria Mucha (Czech, 1860–1939), and Maurice Pillard Verneuil (French, 1869–1942). 24K gold overlay, hand enameled. Made in the USA. Hook and eye closure. Adjusts from 16"L to 18"L with extender chain.
Details
24K gold overlay, hand enameled Made in the USA Hook and eye closure Adjusts from 16"L to 18"L with extender chain
You have not viewed any product yet!