Peacock Feather Jacquard Shawl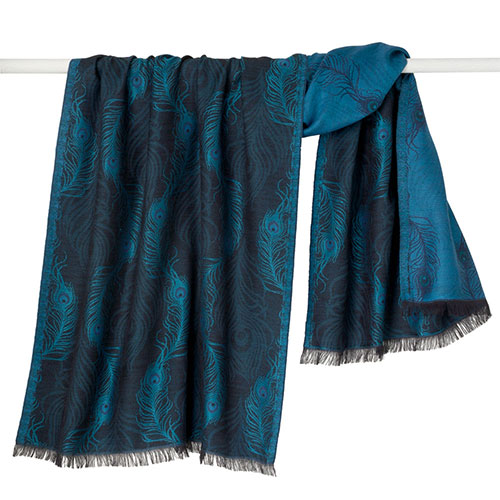 Art History
Maurice Pillard Verneuil
In part a reaction to the mechanization of the Industrial Revolution, Art Nouveau ("new art"), with its flowing lines, whiplash curves, and lavish botanical and animal patterns, originated in France and Belgium in the 1880s. Reaching its pinnacle at the 1900 Exposition Universelle in Paris, it spread throughout Western Europe and the United States, influencing everything from jewelry to furniture design. Lasting up until the First World War, Art Nouveau's fluid style can be seen as a metaphor for creative freedom and a release from the weight of artistic tradition.
Description
Our elegant Peacock Feather Jacquard Shawl is adapted from a color woodcut by Maurice Pillard Verneuil (French, 1869–1942) in Combinaisons Ornementales, a portfolio published in Paris about 1901, in the Museum's collection. Favored for its shimmering exoticism by champions of the Aesthetic and Art Nouveau movements, the peacock feather enjoyed a lively vogue as a design motif in the late nineteenth and early twentieth centuries. Its graceful silhouette and rich iridescent hues were adapted to every manner of decorative art object: textiles and graphic design; porcelain, glass, and metalwork; even furniture and interior decoration. Wool/Silk/Viscose. Imported. 74 1/2" x 28".
Details
Wool/silk/viscose blend
Imported
74 1/2" x 28"
You have not viewed any product yet!