Pope Leo XIII Cross Pendant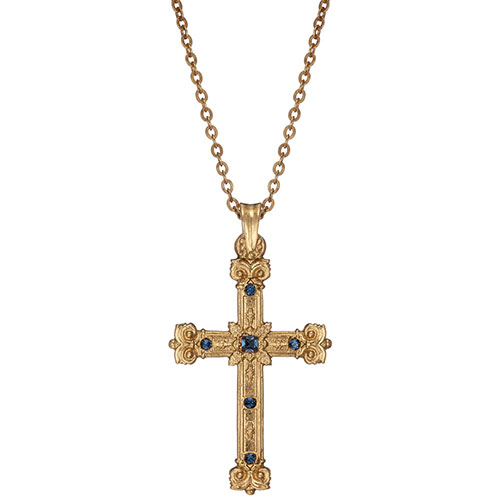 Art History
Austro-Hungarian
The original piece that the Museum's cross pendant is based on consists of an elegantly designed cross with an elaborate base. No expense was spared to manufacture the piece, which, besides the various enamel details has a profusion of diamonds, sapphires, and natural pearls. The cross occupied a prominent place on the desk of the pontiff, in the library of the official papal apartment, and was later transferred to the Papal Sacristy, where it has since remained.
Description
To commemorate the jubilee year of the priestly ordination of Pope Leo XIII in 1887, Emperor Franz Josef of Austria (1830–1916) commissioned the court goldsmith to craft a cross to present to the pontiff as a worthy gift. The result was a superb table cross, the outstanding workmanship of which makes it one of the finest examples of goldwork ever produced under the Austro- Hungarian Empire. Produced in cooperation with The Vatican Library Collection in Rome. 24K gold overlay, made with SWAROVSKI ELEMENTS. Made in the USA. Lobster claw closure. Pendant: 1 1/2"L. Chain: 18"L.
Details
24K gold overlay Made in the USA Lobster claw closure Chain: 18"L, Pendant: 1 1/2"L
You have not viewed any product yet!