Qing Flowering Tree Watch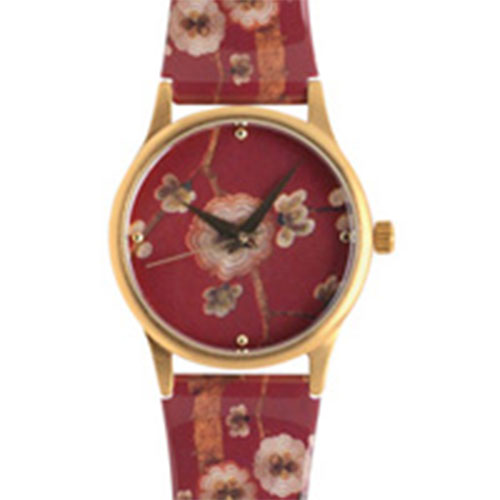 Art History
Chinese
In the first half of the seventeenth century, the Manchus, a semi-nomadic people from the northeast, took over China and established the Qing ("pure") dynasty (1644– 1911). Under the Manchus the arts flourished, especially during the reigns of the emperors Kangxi (r. 1662–1722), Yongzheng (r. 1722–36), and Qianlong (r. 1736– 95). These enlightened rulers embraced Chinese artistic traditions and supported the production of elegant paintings on silk and paper, as well as exquisite ceramics, lacquerware, glass, and jade.
Description
Our watch design is developed from the colorful embroidered blossoms on a festive eighteenth-century Qing wedding hanging in the Museum's collection. An era of rich artistic achievement, China's Qing Dynasty (1644–1911) produced beautiful objects in diverse media including paintings on silk, ceramics, lacquerware, and jade. 18K gold overlay case. Printed plastic band. Quartz movement. Imported. Band: adjusts from 5 7/8" to 7 7/8"L; Case: 1 1/4" diam.
Details
18K gold overlay case Printed plastic band Quartz movement Imported Band: adjusts from 5 7/8" to 7 7/8"L, Case: 1 1/4" diam.
You have not viewed any product yet!