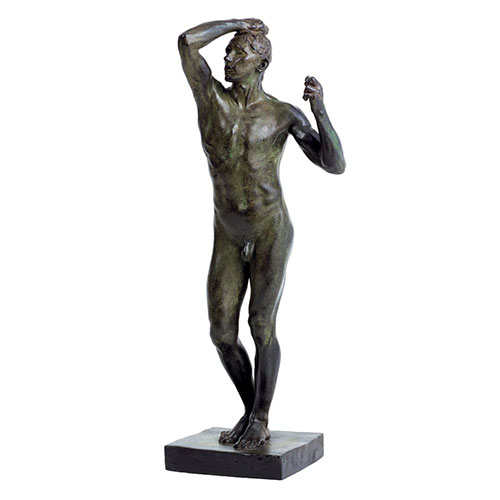 Art History
Auguste Rodin
The lively modeling and deceptively realistic appearance of The Bronze Age represented such a departure from the conventions of nineteenth-century academic sculpture that Auguste Rodin (French, 1840– 1917) was accused of casting from a live model. However, Rodin preserved photographs of the human model on which the sculpture is based. The man is shown nude, with his left hand grasping a pole, and it is immediately apparent from the photo that the sculpture was not cast from the body of a man. In this work, Rodin not only abandoned the repertory of symbols of academic sculpture but also stripped the figure of the spear, relying on the expressiveness of the figure itself to convey its meaning.
Description
The Museum's The Bronze Age was cast about 1906 from the original 1876 model by Auguste Rodin (French, 1840–1917). Based on this work, our reduced-scale reproduction was created with a combination of three-dimensional imaging and traditional sculpture techniques. Bonded bronze. Hand patinated. 14 1/4"H x 5 3/4"W x 5 1/2"D. Sorry, gift wrap is not available for this item.
Details
Bonded bronze Hand patinated 14 1/4"H x 5 3/4"W x 5 1/2"D Gift wrap not available
You have not viewed any product yet!