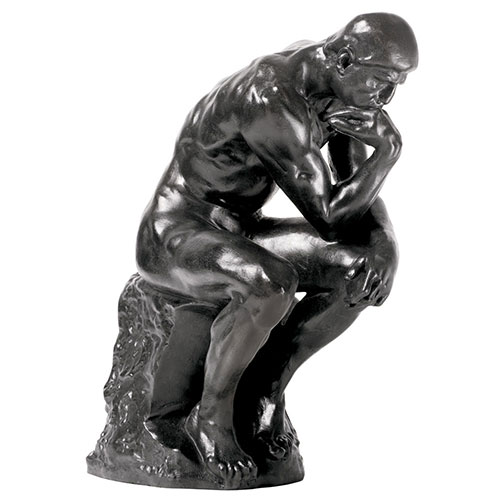 Art History
Auguste Rodin
Sculptor Auguste Rodin (French, 1840–1917) received his first commission from the French government in 1880, for a monumental portal covered with sculptural relief for a museum planned in Paris. Rodin proposed The Gates of Hell, a vast composition based loosely on Dante's Divine Comedy, but the work remained unfinished and was never cast in bronze during the sculptor's lifetime. In the 1880s, Rodin began to extract individual figures from the reliefs of The Gates of Hell and enlarge them to create freestanding sculptures. In its original position in this work, The Thinker (Le Penseur) presided over the damned from the center of the portal's lintel. The detached, brooding figure has been invested with multiple meanings—poet, judge, sculptor.
Description
Our scaled reproduction in hand-patinated bonded bronze was scanned from a bronze in the Museum's collection, which was cast about 1910 from an original nineteenth- century model by Rodin. Bonded bronze. Hand patinated. 7 1/2"H x 6"L x 4 1/2"W. Sorry, gift wrap is not available for this item.
Details
Bonded bronze Hand patinated 7 1/2"H x 6"L x 4 1/2"W Gift wrap not available
You have not viewed any product yet!