Russian Imperial Pink Pansy Necklace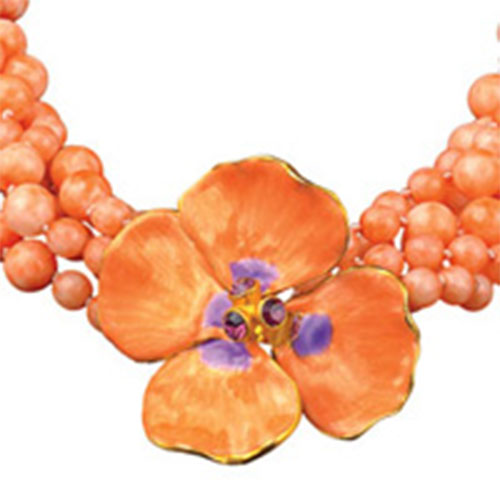 Art History
House of Fabergé
In 1872 when Peter Carl Fabergé (Russian, 1846–1920) was only 26 years old, he took over his father's jewelry business in St. Petersburg, Russia. With the help of his brother Agathon, he cultivated the patronage of the last two czars of the Romanov dynasty and the elite of Edwardian society. Fabergé's studios produced a wide variety of objets d'art, including magnificent jewelry, clocks, enamel cigarette cases, boxes, and frames.
Description
The ultimate achievement of the workshop of Peter Carl Fabergé is the series of jeweled Easter eggs, among them the Basket of Flowers Egg (1901), commissioned by Czar Nicholas II as a gift for his wife, Czarina Alexandra Feodorovna. The piece's profusion of wildflowers enameled on gold is painstakingly modeled to look as realistic as possible. Our necklace is based on a delicate pansy on this magnificent work. Produced in cooperation with the British Royal Collection. 18K gold overlay, hand enameled, made with SWAROVSKI ELEMENTS. Twisted strands of coral Bohemian glass beads. Imported. Box-and-tongue closure. 17 1/2"L.
Details
18K gold overlay, hand enameled MADE WITH SWAROVSKI® ELEMENTS Twisted strands of coral Bohemian glass beads Imported Box-and-tongue closure 17 1/2"L
You have not viewed any product yet!