Russian Imperial Slider Necklace with Bee Pendant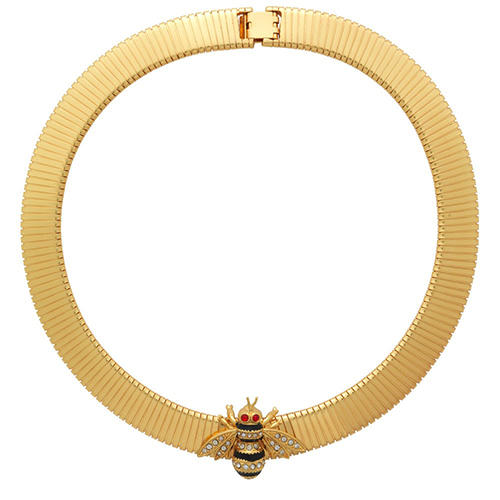 Art History
House of Fabergé
Peter Carl Fabergé (Russian, 1846–1920) was a visionary and talented artisan and jeweler. In 1872 he took over his father's small jewelry atelier in St. Petersburg and within 40 years had transformed it into the world's largest enterprise of its kind, employing some 500 craftsmen and designers. Among the firm's devoted and elite clientele were members of the Russian imperial family, the Romanovs, for whom they made the most precious pieces and the extraordinary Easter eggs.
Description
To build the jewelry business he inherited, Peter Carl Fabergé (Russian, 1846–1920) cultivated the patronage of the last two czars of the Romanov dynasty. At once fanciful and opulent, his creations for his royal clientele were nothing short of breathtaking. Our playful necklace comes with a glittering bee pendant adapted from Cornflowers and Buttercups (ca. 1900), a Fabergé flower confection in gold, enamel, rose diamonds, and rubies; its vase and "water" are both carved from rock crystal. The ladybug, gordonia, pink pansy, and crimson anemone embellishments, which are sold separately and also adapted from jewelry produced by the House of Fabergé, can be added on the necklace above or worn as a pendant on your own chain. The necklace and bee pendant are not sold individually. 18K gold overlay, hand enameled, made with SWAROVSKI ELEMENTS. Imported. Box-and-tongue closure. 18"L; pendant: 1 1/4"L.
Details
18K gold overlay, hand enameled MADE WITH SWAROVSKI® ELEMENTS Imported Box-and-tongue closure 18"L; pendant: 1 1/4"L
You have not viewed any product yet!