Shoes Neckerchief (hot pink)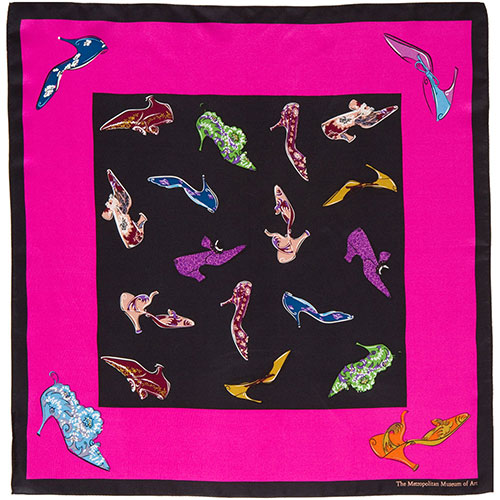 Art History
The Metropolitan Museum's Costume Institute houses over 5,000 examples of shoes throughout history and across cultures. The collection includes shoes dating back to the fourteenth century, in which materials used to make them included thick woven cloth, wool felt, and various grades of leather. Shoes became more functional and affordable to the middle class as more technology and industrialization advanced around the late eighteenth century. It was not until the twentieth century that designers took creative reign on shoes, experimenting with materials, styles, and construction. Shoes by designers and manufacturers such as Roger Vivier, Salvatore Ferragamo, Vivienne Westwood, Herbert Levine, Manolo Blahnik, and Charles Jourdan can be found in The Costume Institute collection.
Description
Our Shoes Neckerchief is designed with colorful renderings of shoes in the Museum's Costume Institute collection. Featuring an array of styled pumps and heels, our neckerchief is fit to satisfy the true shoes enthusiast. From earliest times, footwear has served as a reflection of current fashion trends and designers' visions. The more than two thousand shoes in the Metropolitan Museum's Costume Institute are cherished both as artifacts of social history and as inspirations for future styles. They allow a fascinating glimpse into the lives and times of those who made and wore them. Balancing function and fantasy, the great designers of the twentieth century created some of the most beautiful shoes ever made, often adapting styles from the past with a contemporary sensibility. Silk twill. Imported. 22" x 22".
Details
Silk twill Imported 22" x 22"
You have not viewed any product yet!