Small Cypriot Rock Crystal Earrings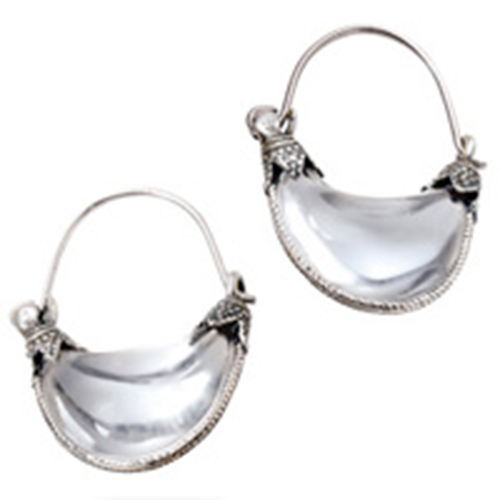 Art History
Cyprus
For more than 2,000 years Cyprus has been a way station for ships circulating around the eastern Mediterranean. The exposure of Cypriot craftsmen to foreign artistic styles from both East and West is reflected in the distinctive hybrid forms of jewelry that, by the Classical period (475–325 B.C.), represent an amalgam of Greek, Near Eastern, and indigenous styles. Boat- shaped earrings were popular throughout the classical world, and many variations were produced on Cyprus.
Description
Our lightly antiqued earrings are adapted from boat-shaped originals featuring carnelians mounted in gold settings worked in delicate filigree. This style was particularly favored in Cyprus during the 5th and 4th centuries B.C. The original earrings in the Museum's collection are embellished with granulation, an ancient form of ornamentation in which tiny grains of gold (or other precious metal) are fused to an underlying surface metal. The high level of execution of the earrings is characteristic of classical Cypriot jewelry. Sterling silver, with rock crystals. Lightly antiqued. Made in the USA. Pierced, with gold- filled wires and rhodium overlay. Small: 7/8"L. Large: 1 1/8"L.
Details
Sterling silver Rock crystals Pierced Made in the USA Large: 1 1/8"L, Small: 7/8"L Gold-filled wires with rhodium overlay
You have not viewed any product yet!