STATUE OF AN OFFERING BEARER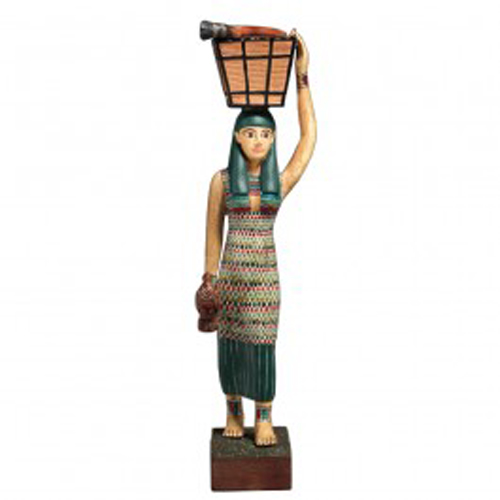 Art History
In Old Kingdom reliefs, women carrying food offerings were labeled with the names of estates destined to provide food for the funeral services in a particular tomb.
Description
The royal chief steward Meketre began his career under King Nebhepetre Mentuhotep II of Dynasty 11, and continued to serve successive kings. During excavations of his tomb in Thebes, a small, painted masterpiece of Egyptian woodcarving (Middle Kingdom, ca. 1981-1975 B.C.) was discovered. This unnamed statue of a richly adorned woman carrying a basket of food on her head and a duck in her right hand was created along with a companion piece now in Cairo. Judging by her jewelry and feather dress, this woman was regarded as a quasi-divine female whose role blended with that of the funerary goddesses Isis and Nephthys. Our hand-painted statuette is based on this ancient Egyptian figure.
Cast resin. Hand painted. 1 1/4"W x 8"H x 2 3/4"D.
Details
Cast resin
Hand painted
1 1/4"W x 8"H x 2 3/4"D
You have not viewed any product yet!