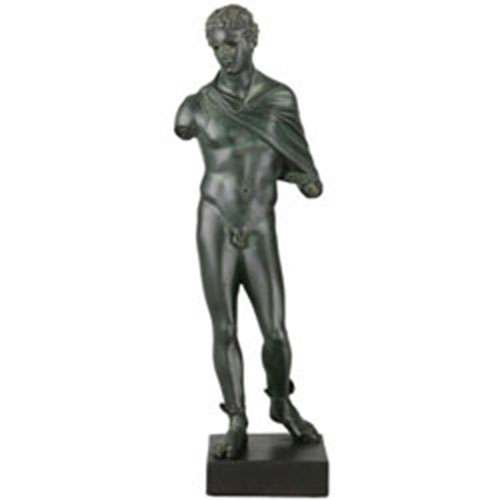 Art History
In Greek mythology, Hermes was the messenger of the gods, the cattle rustler, the inventor of the lyre, the guider of souls across the River Styx, and the manly god of boundaries.
Description
A bronze statuette of Hermes—the messenger of the gods in Greek mythology—in the Museum's collection (1st century B.C.–1st century A.D.) shows him standing gracefully rather than moving purposefully. Two small wings project from his light footwear, and the small rectangular cuttings at the top of his head once held wings that sprang from his laurel-crown. The softness of his body is emphasized by the sharp, tight folds of the short cloak that covers the left side of his upper body. Though rendered in a mannered, classicizing style, the extraordinary quality of the execution gives the figure immediacy and presence. Based on this ancient Hermes figure, our reproduction was created with a combination of three-dimensional imaging and traditional sculpture techniques. Bonded bronze. Hand patinated. 12 1/4"H x 3"W x 3 1/2"D.
Details
Hand patinated 12 1/4"H x 3"W x 3 1/2"D Gift wrap not available Bonded Bronze
You have not viewed any product yet!