Sumerian Royal Hoop Earrings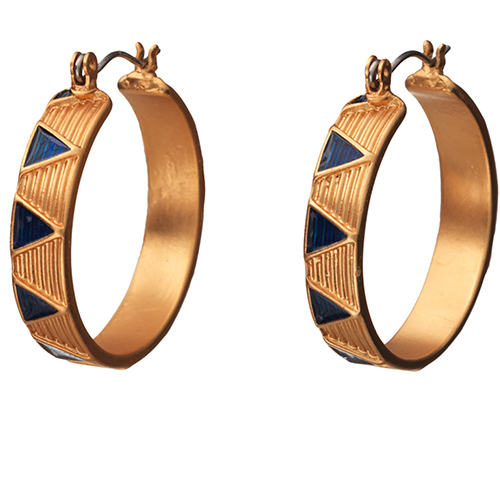 Art History
Sumerian
The Museum's collection of ancient Near Eastern art includes more than seven thousand works varying in date from the eighth millennium B.C. through the centuries just past the age of the Arab conquests of the seventh century A.D. Objects originate from a expansive region centred in Mesopotamia, between the Tigris and Euphrates rivers, and extending north to the Caucasus and the Eurasian steppes and south to the Arabian peninsula. To the west the region consists of Anatolia, Syria, and the Levant, bordered by the Mediterranean; to the east, it extends through Iran and western Central Asia, with connections as far as the Indus River Valley.
Description
Excavations at the ancient Mesopotamian site of Ur uncovered the remains of the city and a Sumerian cemetery dating to the third millennium B.C. The so-called royal graves at Ur contained many extraordinary finds, including jewellery of gold, carnelian, and lapis lazuli. A choker and four strands of beads in the Museum's collection (ca. 2600–2500 B.C.) came from these lavish graves. The blue lapis lazuli and gleaming gold used to make these adornments provide a rich sense of contrasting colour and may have had amuletic properties. They certainly evoked distant lands, because the materials are not native to Mesopotamia; the lapis lazuli would have originated in Afghanistan and the gold would have travelled from Iran, Anatolia, or even faraway Egypt. Our mesmerizing earrings are based on these ancient treasures. 18K gold overlay, hand enamelled. 1" diam. Pierced, with gold-filled posts.
Details
18K gold overlay, hand enamelled 1" diam. Pierced, with gold-filled posts
You have not viewed any product yet!