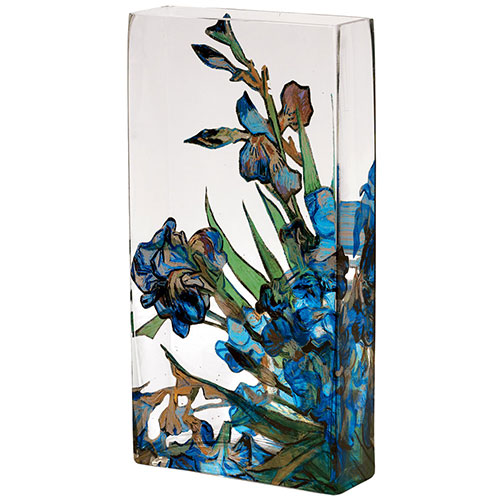 Art History
Van Gogh
Vincent van Gogh (Dutch, 1853-1890), the eldest son of a Dutch Reformed minister and a bookseller's daughter, pursued various vocations, including that of an art dealer and clergyman, before deciding to become an artist at the age of twenty-seven. Throughout the course of his decade-long career (1880-90), he produced nearly 900 paintings and more than 1,100 works on paper. Ironically, in 1890, he modestly assessed his artistic legacy as "of very secondary importance.'
Description
Our vase features a detail adapted from Irises by Vincent van Gogh (Dutch, 1853-1890). In May 1890, just before his departure from the asylum in Saint-Rémy, Van Gogh painted an exceptional group of four still lifes, to which the Museum's Irises (and also Roses) belong. Magnificent in their ease of execution and graceful simplicity of design, these bouquets and their counterparts were imagined as a decorative ensemble, like the suite of sunflowers he had made earlier in Arles. Glass with decal application. Gift boxed. Hand wash only. 11 1/2"H x 6"W x 2"D.
Details
Glass
Hand wash only
Gift boxed 11 1/2"H x 6"W x 2"D
You have not viewed any product yet!