Vera Brushed Blossoms Top, Slim Fit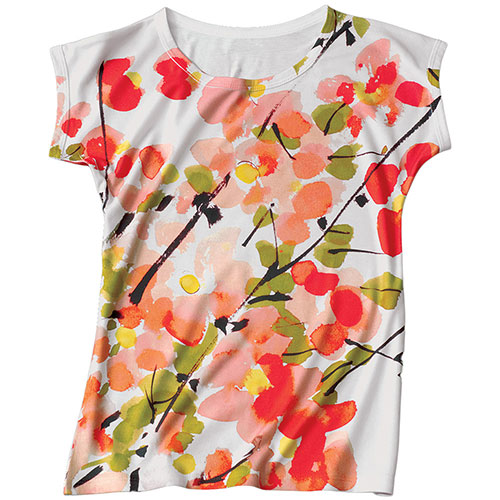 Art History
Vera Neumann
A fine arts graduate of New York City's free Cooper Union, Vera Neumann (American, 1907–1993) started her career as a textile designer. She began her business creating placemats on the kitchen table of her small studio apartment. Her bold colors and striking designs were an immediate success. Shortly thereafter, she purchased surplus U.S. military parachute silk to branch out into what became her signature product, scarves. As Neumann's company grew, she became known professionally as just "Vera," and her following became as varied as her products: First Lady Bess Truman selected Vera designs for the White House fabrics, Marilyn Monroe draped herself in Vera scarves for her last photography shoot, in Vogue, and John Lennon was one of the first collectors of her paintings. By the time of her death, Neumann's designs spanned five decades, and she had been honored with a retrospective of her work at the Smithsonian. She tagged many of her designs with her logo of a ladybug, which to Neumann symbolized happiness, perhaps the secret behind the success of her bright geometrics and cheery florals. Her work is in the collection of The Costume Institute at The Metropolitan Museum of Art.
Description
Originally created as a silk scarf from the mid-1960s to the late 1970s, this bright Vera Neumann (American, 1907–1993) Brushed Blossoms floral print has been reproduced for our top. Several examples of Vera's work are in the collection of the Museum's Costume Institute. All Vera products produced under license and in cooperation with The Vera Company, LLC. Polyester/Spandex. Slim fit. Cap sleeves. Made in the USA. Machine washable.
Details
Available Sizes
Polyester/Spandex
Slim fit
Cap sleeves
Made in the USA
Machine washable
You have not viewed any product yet!