William Morris Floral Potpourri Square Scarf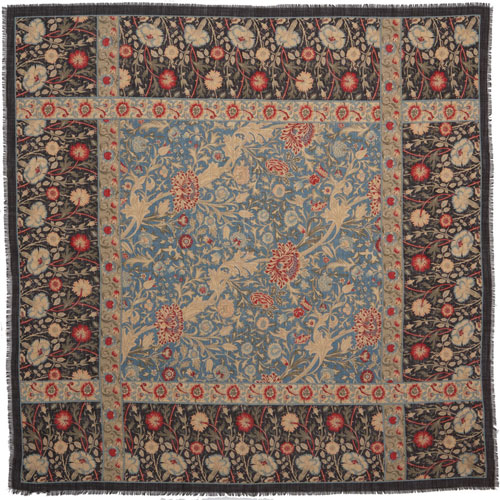 Art History
William Morris
A talented writer, designer, and administrator, William Morris (British, 1834–1896) was one of the most influential figures of the British Victorian era. In 1861, he and others founded the interior design firm of Morris, Marshall, Faulkner, & Co. Calling themselves "fine art workmen," they deliberately broke down the modern barrier between fine and decorative art, and established an equivalent to the cooperative guilds of the Middle Ages. The firm designed and produced a full range of household objects including stained glass, metalwork, furniture, and textiles. In 1875, the original partnership dissolved, and the firm was reorganized as Morris & Company, under Morris's sole direction. In the next decades, Morris & Co. prospered both artistically and commercially, as its remarkable range of domestic and ecclesiastical furnishings and renowned craftsmanship made it a household name.
Description
In 1861, William Morris (British, 1834–1896) co-founded a London interior design firm (reorganized in 1875 as Morris & Co.) to design and produce a full range of household goods. Morris was a prolific designer of wallpapers and fabrics. Characteristically, his designs were densely patterned and often based on flowers, leaves, and fruits. Our enchanting scarf is based on two botanical designs by Morris & Co. in the Museum's collection: the center is adapted from the linen textile Trent (ca. 1892), and the border is taken from the hand- block-printed wallpaper Pink and Rose (ca. 1890). Silk/wool blend. Made in Italy. 45" x 45".
Details
Silk/wool blend
Made in Italy
45" x 45"
You have not viewed any product yet!