WILLIAM MORRIS MAGNETIC BOOKMK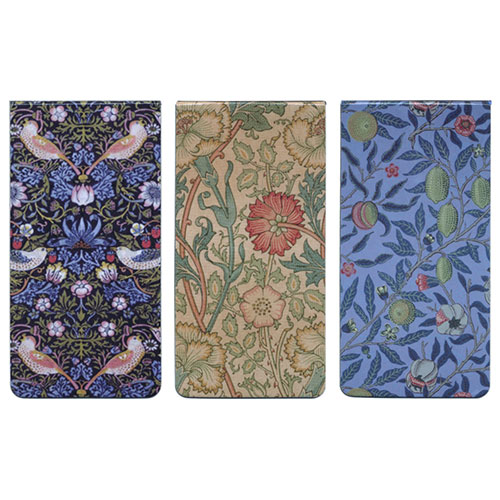 Description
William Morris
A talented writer, designer, and administrator, William Morris (British, 1834–1896) was one of the most influential figures of the British Victorian era. In 1861, he and others founded the interior design firm of Morris, Marshall, Faulkner, & Co. Calling themselves "fine art workmen," they deliberately broke down the modern barrier between fine and decorative art, and established an equivalent to the cooperative guilds of the Middle Ages. The firm designed and produced a full range of household objects including stained glass, metalwork, furniture, and textiles. In 1875, the original partnership dissolved, and the firm was reorganized as Morris & Company, under Morris's sole direction. In the next decades, Morris & Co. prospered both artistically and commercially, as its remarkable range of domestic and ecclesiastical furnishings and renowned craftsmanship made it a household name.
Artful colorations and patterns characterize the designs of William Morris (British, 1834–1896). One of the founders of the Arts and Crafts movement, Morris rejected modernity and industry in favor of creating beautiful, handcrafted everyday objects that elevated decorative pieces to the realm of the fine art. His use of fantastic foliage reflects his interest in medieval European textiles, yet his focus on aesthetics and techniques made him one of the forerunners of modern design. Our magnetic bookmarks, designed to fold over the page for a firm hold, are based on three of Morris's unique patterns. Set of 3 bookmarks. Lacquered metal, with magnetic snap closure. 1 3/4" x 3 1/2".
Set of 3 bookmarks 1 3/4" x 3 1/2" each Lacquered metal, with magnetic snap closure
You have not viewed any product yet!