William Morris Scarf, Black 18″X 64″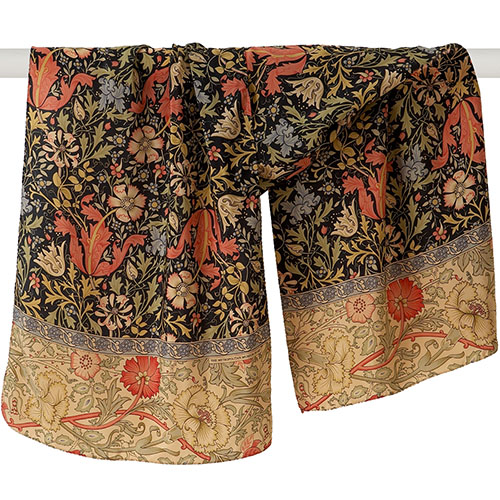 Art History
William Morris
One of the most influential designers of Victorian England, William Morris (British, 1834–1896) was fascinated and inspired by the legends of King Arthur, the writings of Chaucer, and all things medieval. He even modeled the structure of his creative enterprises after the medieval guild system. One of his missions was to break the barrier between fine and decorative art, a goal he accomplished by turning his design talents to everything from murals and stained glass to furniture, wallpaper, and textiles. His work helped launch the Arts and Crafts movement in England and paved the way for the era of modern design.
Description
Echoing the lush colors of John Henry Dearle's (British, 1860–1932) 1896 wallpaper design entitled Compton, our scarf features a rich botanical and floral motif. Dearle, chief designer of William Morris's (British, 1834–1896) interior design firm Morris & Co, used two different shades of green, as well as pink and blue pastels for the poppies and tulips in his wallpaper. Silk crêpe de chine. Imported. 64" x 18".
Details
Silk Crêpe de Chine
Imported
64" x 18"
You have not viewed any product yet!